Web Development & Branding
Jeremy Schmidt Music – Branding & Website
Many businesses faced challenges during the COVID-19 pandemic, including musician Jeremy Schmidt. To adapt in the pandemic, Jeremy found himself shifting his lessons to an online format. Students continued to enjoy his teaching, and he decided to go all in on a new website and branding to launch his online lessons.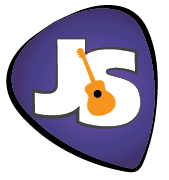 Branding – Logo Design
This logo takes a few elements of Jeremy's favorite instrument to play and to teach, the guitar.  The shape of the logo is a guitar pick, and inside are the initials separated by an acoustic guitar.  The guitar takes on the color of a lighter acoustic, while being complimented by the a deep royal purple, a color psychologists say represents creativity. 
Web Development, Copywriting, Imagery
The website was developed to serve as both a marketing tool for finding new students, as well as to be a resource for current students, or students that may want to learn on their own.  The online vault is meant to be reservoir of content ranging from practice exercises, to music charts, and play along videos. 
In creating the website I sourced all the images, developed the icons, and wrote the copy.  The practice vault is managed by Jeremy himself.